Remembering Santiago through music and visual pleasure
Source: Screen capture from "Cabros" video, by Odisea.
After several months living in London I started to think about how fragile memory is in terms of remembering that place called home. When time goes by it seems that you start reimagining and remembering places differently, with a sense of nostalgia but at the same time with no experience of the everyday. I think that our idea of a place is based not just on past experience, but on the experience of the everyday. After realizing that the sense of the quotidian has gone, I've been looking for other ways to engage myself with Santiago, Chile, my home town.
This blogpost was originally published in Urban Vignettes.
Visual images usually help to bring memories back and to reinforce ideas. In my case, music and music videos have allowed me to reconnect with the city in a different aesthetic form. With time and distance, looking at these videos I imagine the city not as it used to be; not as a busy, grey and boring place but somehow cleaner, feeling architectural pleasure from the shapes of the buildings, the colour of the sky or the lights at night; it seems more fun, full of streets to walk by and hidden places to be at.
Source: Bifurcaciones.
Source: Vision 89
The aesthetic of these visual productions seems to have a strong influence on my perceptions, they recreate in my imagination a new city; my old neighbourhood (Cabros by Odisea, Esgrima by Gepe), old commercial streets, graffiti (Me gusta la noche, by Adrianigual), highways and alleys (Eramos todos felices by Teleradio Donoso) look bohemian, hype, interesting to see and feel and where I can hear the beat of the city. Music videos show the urban experience of youth in Santiago with a dynamic personality that I'm not sure was there last time.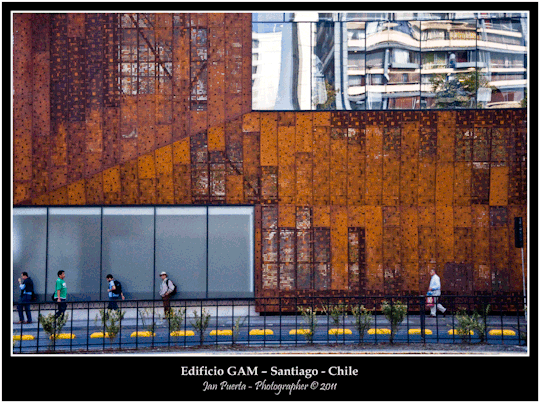 Source: Jan Puerta.
It's interesting to notice the way in which melancholic memory and aesthetics melt together to recreate a sensory idea of a place, a city, a home. I have imagined a romantic idea of my home town, an idea of a sensory experience that I have found in the pleasure of looking at visual objects and spaces and hearing pop/rock/indie music.
Source: Flickr
Is that Santiago? I'm not sure if that city is the same city that I left over a year ago; have those places changed while I was gone? Have I transformed them while I was remembering them? Do nostalgia and memories have the strength to transform a city?
Featured in this post:
Cabros by Odisea.
Esgrima by Gepe.
Me gusta la noche, by Adrianigual
Eramos todos felices by Teleradio Donoso